Blog: "Learning to teach during the pandemic has already honed my skills"
Back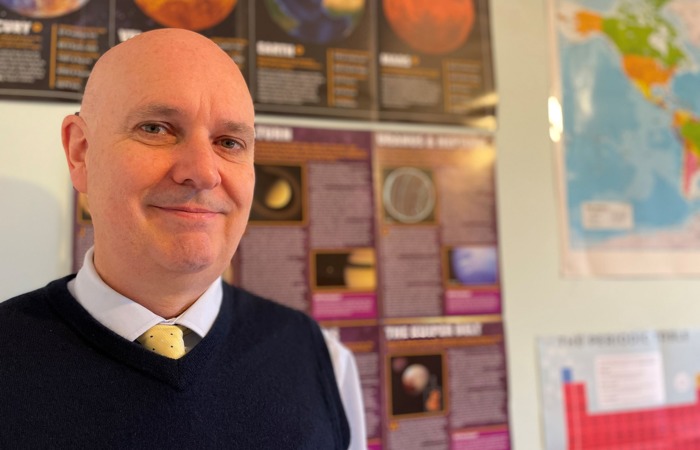 Published on 12/04/21
Chris Goode, Inspiration Teacher Training graduate, shares his experience of training to teach with Inspiration Trust.
Starting a new career as a teacher during the Covid-19 pandemic has brought its fair share of challenges.
The skills you naturally develop as you spend more time in front of the class - skills like pupil management and judging the mood of the classroom - are harder to improve when you're teaching behind a screen. I've had a taste of them though, and I'm confident these will now develop further as we've welcome back our pupils.
But what I have noticed are the opportunities that have come up from virtual teaching at such an early stage in my career. Recording your lessons for remote teaching really does help you learn how you teach, and watching the recordings back helps you to reflect on your teaching practice.
It's also made me realise how important it is to get my wording exactly right, as there's no margin for error. In the classroom if your pupils don't understand then it's easy to go back over it, but that's a luxury you're not afforded when teaching remotely.
We're really honing the skills that will prove vital in later years, making certain our delivery is as on-point as possible.
Mind you, it helps that I'm still teaching in the same school where I did my second placement. Moving to Thetford Academy in January meant that I had a couple of months of classroom teaching before Covid hit, which was invaluable in improving my teaching practice and starting to build those vital relationships. It's not the same as being there all year though – when we started again in September I had kids asking if I was new to the school! It's early days still, but I can already see an improvement in my teaching practice.
My first placement was at Jane Austen College - at your first placement you're finding your feet as a teacher, and you will make beginner mistakes. But you're supported by the network around you, and you always have a mentor you can go to for advice.
Right from the start in fact, the Inspiration Teacher Training programme offered that personalised touch and regular support, which made it feel different from other training programmes. My cohort was a smaller group than some of the other providers, with only 30-40 of us on the programme, meaning that we were able to build up those key relationships with our mentors and other training staff. Our subject lead was really accessible and always had time to go through any issues that did come up, which meant we felt valued right from the start of the programme.
We're a varied group as well, featuring a broad range of ages, as opposed to being made up solely of fresh-faced graduates. As a career changer I felt reassured that I wasn't the only one moving to teaching later on in life, and there was a real understanding that we brought our own experience to the role.
I definitely have a different background to the other trainees, having managed an off-shore exploration crew before taking early retirement. Having turned down the chance to go back as a contractor I fancied a complete change of career; having considered teaching for a while I went along to an Inspiration Teacher Training information event and was sold.
It's totally different to what I'm used to, and even different from what I expected. I work much harder now than I used to offshore, but that's because you want to work hard to deliver the best lessons, and to look after your pupils to the best of your ability.
Despite that, one key piece of advice, which was passed onto me by my mentor and everyone at the Inspiration Trust when I was training, was to keep a clear difference between your work and your home life.
Whether it's staying at school until early evening, in the knowledge that when you leave you're done for the day, or being really honest when you need to say 'no' to something, it will prove invaluable to maintaining a healthy work-life balance as you progress.
It can be tricky to set those boundaries right from the start, but it shows that you're respected as a teacher. Knowing your training provider, and your school, will treat you right gives you the best possible start to your teacher career.