Find out about a career in teaching from trainees
Back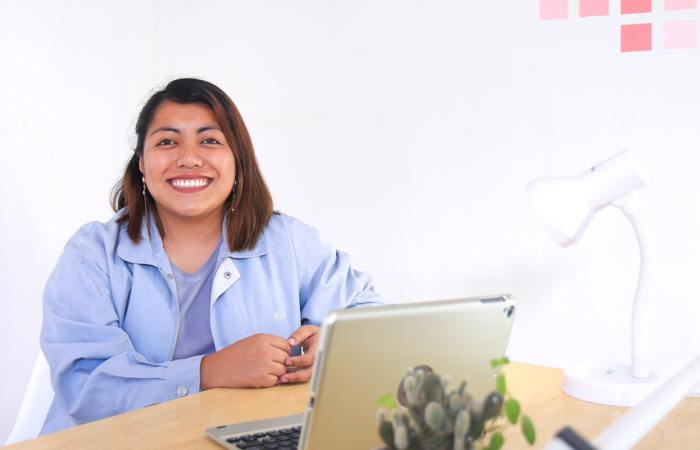 Published on 26/04/21
Hear from Inspiration Teacher Training trainees about what inspired them to pursue their careers, why they chose our programme and what they have learnt along the way.
Michelle Allis
I originally studied a Mechanical Engineering degree, and started a job in a male-dominated industry straight out of university. I remained in this field, and developed 20 years of experience as a female engineer, gaining resilience and becoming a respected member of a global condition monitoring company.
I had reached a point in my life when I knew that young girls needed encouragement into STEM subjects and I decided to use the experience I had gained in industry, undertaking a career change to train to teach in order to be a positive role model and make a difference where it is needed most.
I was attracted to train with Inspiration Teacher Training as their values of uplifting young people in the most needy communities matched my aspirations of encouraging young people, especially young women, to aspire to a career in a STEM subject in order to increase their social mobility and improve their life chances. I have not been disappointed and have experienced firsthand the community spirit that is Inspiration Trust, gaining valuable experience and updating my skill set. I will be starting as an NQT teacher in an Inspiration Trust school in September and hope to inspire, support and guide many young people to bright futures as a part of a dedicated team.
Portia Griffey
Here I am having almost completed my Qulaified Teaching Status wondering why I didn't do it before. But sometimes life blows you off course and even though thoughts of becoming a teacher were always in the back of my mind, I had a good job, life was ticking along with family etc. to fill every spare moment. Until everything slotted into place.
I chose Inspiration Trust because they offered the PGCE, had a good track record and offered primary maths specialism. They were so helpful with all my questions before I applied which was a very positive start. The teacher training and placements have been brilliant and I feel equipped and confident to begin my teaching career.
Rebecca Emsden
I chose to train as a teacher because I have always enjoyed working with young people and really love the subject of mathematics. I am excited to make a positive impact on students' education and help them achieve their goals in the same way that my teachers helped me.
Being able to share my interest and enthusiasm for mathematics with the younger generation is another aspect that drew me to teaching. Inspiration Teacher Training stood out to me as they promote the importance of teachers having a strong subject knowledge and provide their trainees with training from subject specialists.
Will Card
I have had an interest in teaching ever since junior school, where a teacher had a clear positive impact on my future and inspired me to have that same impact on others.
Teaching is a career path that I feel will be extremely rewarding and enjoyable, since working with young people rarely offers a dull day. I felt Inspiration Trust offered me the best opportunity to learn and develop into an outstanding teacher.
There is a clear focus on students not just receiving exceptional teaching within the curriculum, but a range of enrichment opportunities also. This shows a dedication to creating an environment in which students excel and develop into well-rounded young adults.
Anthony Oliver
To teach or not to teach, now that is a question! At 23 I considered teaching but at that time it wasn't right for me and my path took me elsewhere. Instead, I decided to go into commerce where I worked for many years.
At the beginning of 2020 I thought it was time for a change - maybe now was the opportunity I had been waiting for to finally be able to teach. I knew there was a need for teachers and felt it was something I wanted to try. It would also be a great chance for me to give back some of the knowledge and life experience I had. I do truly believe it's never too late to learn.
I was particularly interested in training with Inspiration Trust as they are based in East Anglia. They offered me the chance to train to teach in my local community. They were also willing to consider my application, as it was slightly unusual as I did not enter the profession through the traditional route. It has been a difficult year of teacher training but I have not regretted for a minute my decision to train to become a teacher. To see the look on the children's faces, those lightbulb moments, makes it all worthwhile.