Joy for Jane Austen College at latest Ofsted Rating
Back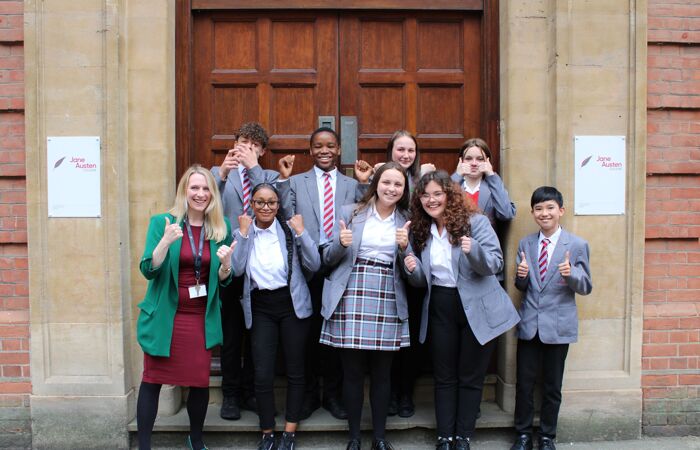 Published on 30/06/22
Staff, parents, pupils and governors are celebrating at the Norwich city centre academy, Jane Austen College after receiving a stand-out Ofsted visit that states if the body was to carry out a full inspection now, it would be rated outstanding!
Ofsted states:
"Jane Austen College continues to be a good school. There is enough evidence of improved performance to suggest the school could be judged outstanding if we were to carry out a section 5 inspection now."
Principal Summer Turner says:
"At Jane Austen College we believe that every day provides an opportunity to shape the story of our students' lives. I am delighted to see Ofsted recognise the team's expertise and their commitment to knowledge, character and social justice which is at the heart of our school community. I am immensely proud of our staff and students today, and every day."
The school has been praised for its 'palpable and urgent sense of mission to make the curriculum the best it can be, seeing education as the way to improve the life prospects of pupils in Norwich' with leaders showing high ambition that all pupils learn what will best help them in their future lives.
Ofsted states:
"Leaders put the needs and aspirations of disadvantaged pupils, particularly those with SEND, at the heart of what they do. This contributes towards ensuring that pupils achieve so well."

Gareth Stevens, CEO says:
"We are delighted that Ofsted has recognised Jane Austen College continues to be a good school from Ofsted's latest visit with evidence to suggest it could be judged as an outstanding school if they were to carry out a full inspection now. This is testament to the hard work and dedication of the leadership, governance, staff, pupils and wider community. I am especially pleased that Ofsted has recognised the excellent work the school does to promote inclusion, particularly the provision for our SEND pupils."
Jane Austen College's 'robust culture of safeguarding' was also praised in the report, alongside high recognition of how 'pupils, including in the sixth form, receive well-informed and wide-ranging guidance about their next steps with a much higher-than-average proportion of pupils progressing to apprenticeships. The same is true of entry to the most competitive universities."
You can read the full report here
About Inspiration Trust
Founded in 2012, Inspiration Trust is a growing multi-academy trust sponsoring 15 schools in the Norfolk area. We believe that every child deserves an excellent education, especially in disadvantaged areas. Our family of schools collaborate, support and innovate to give every child the best start in life and to enable professional development for staff. We're proudly committed to improving the standards of education across the East of England, by delivering a knowledge-rich curriculum combined with cultural opportunities, sports, music and enrichment.