Incredible GCSE Success for Inspiration Trust
Back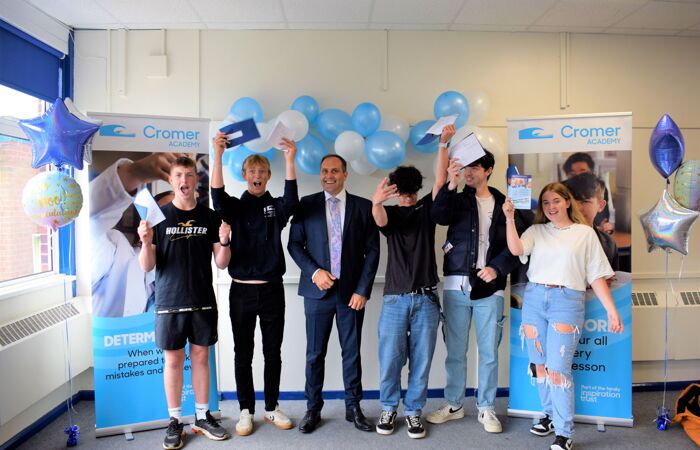 Published on 25/08/22
Inspiration Trust wants to say a gigantic well done to all of its pupils, teachers, and parents/carers today, as after two years of unprecedented disruption surrounding the pandemic, incredible GCSE results have been achieved!
Hethersett Academy has seen stratospheric results with 90% 9-4 grades in Maths and English, with 1 in 3 grades being 9-7 and an impressive 10 pupils achieving straight nines! Across all GCSES, the percentage of 9-4 grades is 92%!
The Ofsted 'Outstanding' school saw stand-out success in English, Computing, Geography, History, Music, Spanish and Textiles, where 49.7%, 50%, 66.7%, 54.8%, 55.6%, 54% and 55% of grades were 9-7 respectively.
The school is also celebrating an impressive increase in the percentage of 9-5 grades vs. 2019 with Sciences up from 48% to 78%, History up from 50% to 80.8%, Geography from 63.9% to 96.4%, Food and Nutrition from 57% to 71.2% and Art from 29% to 81.6%.
Wayland Academy are delighted to have achieved the school's best ever results with 81% of grades 9-4 across Maths and English, seeing a 35% increase in English grades and 20% increase in Maths grades vs. 2019. The community school, which is located in the heart of Watton prides itself on its strong culture of raising aspirations, and helping pupils to achieve their very best and this year's results showcases this exponentially.
Similar success is also being enjoyed by everyone over at Cromer Academy too, who are celebrating their knock-out GCSE results with 80% of grades at 9-4 across Maths and English with 16 pupils moving on to Sir Isaac Newton Sixth Form or Jane Austen College Sixth Form.
The school has seen a significant improvement in results vs. 2019 in all areas, with standout subjects being Art, History and Languages, with success also seen across Sport and Music too. With the challenges that have surrounded teaching and learning due to the pandemic and the return to exams following their hiatus, the staff are extremely proud of what their pupils have achieved.

There is lots for everyone at Jane Austen College and Thetford Academy to be proud of too. Jane Austen College saw 73% of grades at 9-4 in Maths and English while Thetford Academy has seen 60% of Maths and English grades at 9-4, with significant improvements seen in a wide range of subjects. 100% of grades in Biology, Chemistry, Physics and French were at grade 4 or above. 20% of all GCSE grades were at grade 7 or above, which includes 54 grade 9s - double the number that was seen in 2019!

Everyone is also very proud of all the students at East Point Academy, King Edward VII Academy, Great Yarmouth Charter Academy and Hewett Academy. Lots of hard work and dedication has gone into this set of GCSEs following all the disruptions to teaching and learning that occurred as a result of the pandemic, and lots of fantastic results were achieved.
East Point Academy is celebrating yet another year of excellent GCSE results with 60% 9-4 grades across Maths and English, with one Y11 student attaining a truly fantastic set of results - seven Grade 9's and two Grade 8's! King Edward VII Academy has also been going from strength-to-strength, with several exceptional individual performances, as well as many students who have exceeded their expected grades by a significant amount despite the challenges that have been thrown at them. One standout student achieved 7 GCSEs at Grade 7, two at Grade 8 and one at Grade 9!
Great Yarmouth Charter Academy is not only delighted to see so many celebrating success but so many students continuing their education in sixth forms within the Inspiration Trust, including the new Sir Isaac Newton East Sixth Form opening on the school's site this September. Hewett Academy is proud of all its students, each coming with their own personal journey and demonstrating immense resilience to pre and post-pandemic challenges. A special mention must go to this year's Head Student, who has received an amazing set of results to finish the year. From joining the school in Year 7 with average primary school SATs scores she has gone on to make phenomenal progress with grade 9 in Art and Graphics, grade 8 in Science and French and grade 7 in English and Maths.